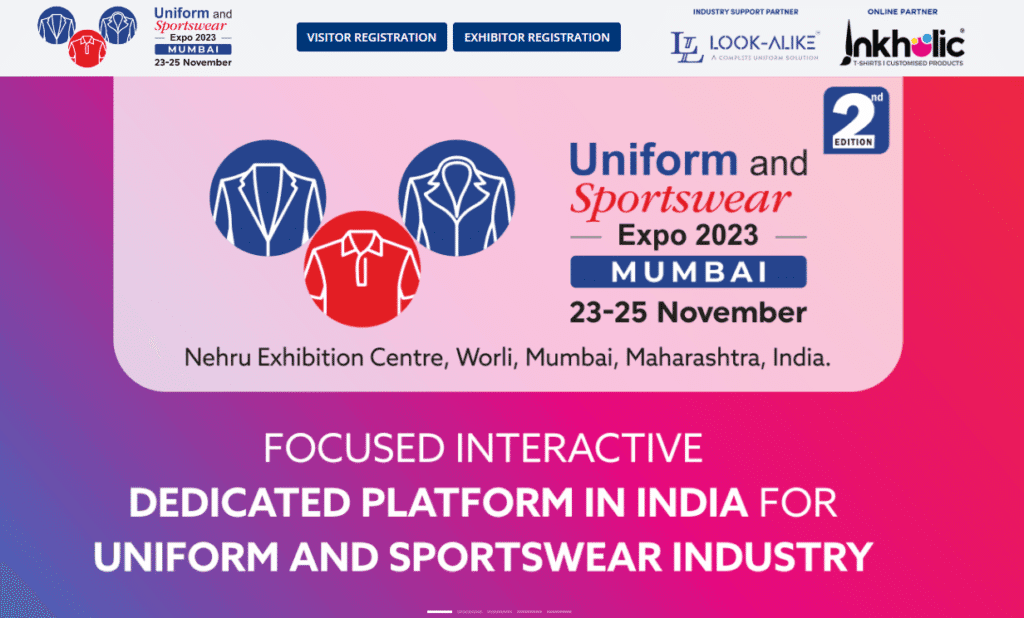 Industry stakeholders from across India and overseas are eagerly looking forward to the second edition of Uniform & Sportswear Expo (USE) 2023, India's leading B2B expo on uniform & sportswear industry, being organised by Aditya Expositions from November 23-25, 2023 at Nehru Exhibition Centre, Worli, Mumbai. This unique platform for the B2B industry, conceptualised with an aim to create an interactive market, will have noteworthy dignitaries at the inauguration. M. B. Raghunath, CEO, Mafatlal Industries, Mumbai will be the Chief Guest and Naveen Sainani, Jt. Hon. Gen. Secretary, CMAI will be the Guest of Honour at the exhibition's opening ceremony.
With sustainability being is the new industry buzzword, some of the leading players will focus on sustainable uniforms and textiles, highlighting the latest offerings. USE 2023 will witness a convergence of 40-45 exhibitors from industry segments linked with uniforms and sportswear will be coming from all over India and exhibiting their products. Many of these are MSME units exhibiting for the first time and they look forward to showcase their range at the venue.
To enhance the knowledge quotient, 3 seminars are planned during the exhibition, covering all aspects from technical to management side. Vinay Nichani, Sales Director, DCC Group will cover 'Sublimation – Enhance Profitability Through Value Addition' while Suresh Kumar Rajbhar, CEO, Polocraft Sportswear Industries will highlight how to go about 'Building a Brand' and Dharmesh Jethmalani, Creative Business Communication Consultant will conduct an interactive session on 'Do You Want to Grow Your Business 10X.'
The venue for USE 2023, Nehru Centre, Worli, Mumbai is centrally located and easy to reach. Visitors are expected from all over the country, primarily from the western, southern and central zones of India. Leading trade publications are also supporting the expo and building awareness in the industry about the show. This industry gathering will ensure that the flag of India's uniform and sportswear industry flies high in the export markets, thereby improving the business volumes. Inkholic Enterprises is Digital partner and Look-Alike is an Industry Support Partner.
Following the successful debut and excellent response received from the Industry in 2022, the second edition of this well-planned and structured three-day exhibition promises a rewarding B2B interface yet again along with the freedom to interact in a focused manner with the target audience, while showcasing varied products and related services in an enabling environment.
All stakeholders will gather again to meet leading manufacturers, distribution chain stakeholders, resource business partners, clients, consumers and products & services providers. The second edition will raise benchmarks even further and highlight the scope for tapping exponential growth opportunities not just within India but beyond borders as well.
Trade shows are an essential component for business interaction and networking and this concept fits the industry requirements precisely. This customised initiative is a contribution to enable manufacturers from this country to export all over the world; facilitating the 'Make in India' efforts as they progress and achieve a level of true success.
For more info: www.uniformandsportswearexpo.com