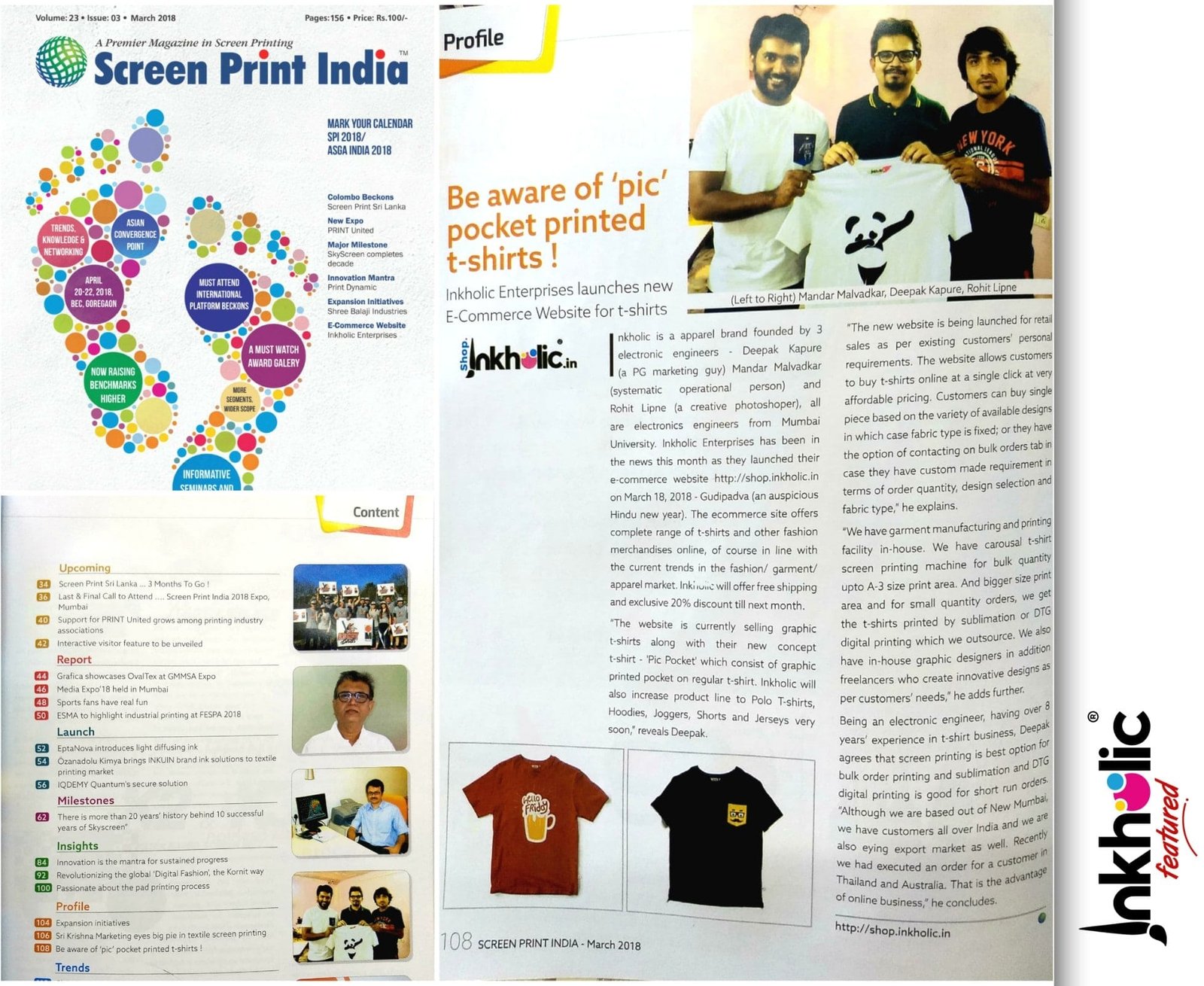 INKHOLIC ENTERPRISES : BE AWARE OF 'PIC' POCKET PRINTED T-SHIRTS!
22 March 2018, Mumbai : There is a growing trend of IIT-graduates, Engineers, MBAs from premier B-Schools venturing into online t-shirt business. Inkholic is a apparel brand which is founded by 3 electronic engineers. The point in case is Deepak Kapure (a PG marketing guy) Mandar Malvadkar (systematic operational person) & Rohit Lipne (a creative photoshoper) – all three are electronics engineers from Mumbai University. These engineers, who had been engaged in part-time t-shirt business during college days, set up Inkholic Enterprises in Navi Mumbai, to manufacture a wide range of t-shirts, casual wear and other fashion merchandises after quitting their reputed jobs.
Inkholic Enterprises was in the news as they have planned to launch their e-commerce website http://shop.inkholic.in on 18th March 2018 – Gudipadva (an auspicious Hindu new year). The ecommerce site offers complete range of t-shirts and other fashion merchandises online, of course in line with the current trends in the fashion/garment/apparel market. To celebrate the news, Inkholic will offer free shipping and exclusive 20% discount till next month.
"The website is currently selling graphic t-shirts along with their new concept t-shirt – 'Pic Pocket' which consist of graphic printed pocket on regular t-shirt. Inkholic will also increase product line to Polo T-shirts, Hoodies, Joggers, Shorts and Jerseys very soon," reveals Deepak.
"Not to be afraid of the concept 'Pic Pocket'! It is a concept of fashion in which only pocket portion of the t-shirt would be printed with attractive graphics" says Deepak.
"The new website is being launched for retail sales as per existing customers' personal requirements. The website allows customers to buy t-shirts online at a single click at very affordable pricing. The website is providing holistic e-commerce experience to the customers. There are two options: Customers can buy single piece based on the variety of available designs in which case fabric type is fixed; or they have the option of contacting on bulk orders tab in case they have custom made requirement in terms of order quantity, design selection and fabric type," he explains.
Inkholic Enterprise has expertise in T-shirt manufacturing and printing. The company has the capability to entertain orders ranging from 1 piece to any numbers since they have all the in-house facilities. "We have garment manufacturing and printing facility in-house. We have carousal t-shirt screen printing machine for bulk quantity upto A-3 size print area. And bigger size print area and for small quantity orders, we get the t-shirts printed by sublimation or DTG digital printing which we outsource. We also have in-house graphic designers in addition freelancers who create innovative designs as per customers' needs," he adds further.
Being an electronic engineer, having over 8 years' experience in t-shirt business, Deepak agrees that screen printing is best option for bulk order printing and sublimation and DTG digital printing is good for short run orders. "If A3 size job printing costs about Rs.20, same will cost me Rs.100-150 by DTG digital and Rs.30-40 by sublimation, depending on the colours. By screen printing it is virtually impossible to print just one piece and digital is the only option. So when it comes to garment decoration, all types of printing technology is needed to meets customers' needs."
"Although we are based out of New Mumbai, we have customers all over India and we are also eying export market as well. Recently we had executed an order for a customer in Thailand and Australia. That is the advantage of online business," he concludes.
Read Full Article on: Screen Print India